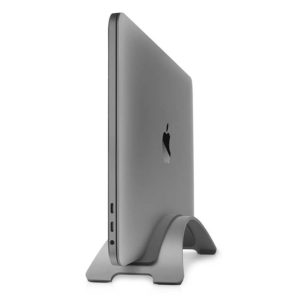 BookArc is one of the most high-quality stands we've come across, and we've got them in stock.
According to its maker, TwelveSouth, BookArc is the most popular vertical MacBook stand in the world, and we can see why.
Simply slide your MacBook into the silicone slot (choose from several to fit your specific machine), connect it to an external display, full-size keyboard and mouse — you'll have a desktop setup in no time.
A cable catch prevents cables from falling to the floor.
Stop in to either of our locations soon to check out BookArc!