About Austin MacWorks
An Apple Authorized Reseller and Apple Authorized Service Provider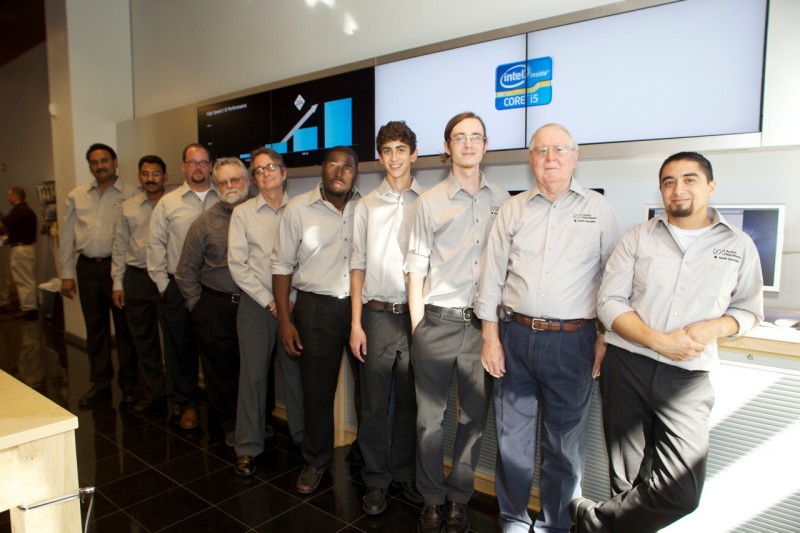 Founded in 2008, Austin MacWorks is an Apple Authorized Reseller.
In addition to a full line of Apple computers, Austin MacWorks sells printers, scanners, accessories, peripherals and more.
Austin MacWorks' prices are the same as Apple's, with a mission and emphasis on personal service and building trusted relationships with all of our customers.
We also offer warranty service, hardware upgrades, out-of-warranty service, onsite service and network setup, data recovery, in-store training and much more.

Locations
North Central
Our original store is conveniently located in North-Central Austin at 5770 N. Mo-Pac Expwy. Austin MacWorks is on the Southbound Access Road of Mo-Pac, just north of FM 2222, between the AT&T Store and ZuZu.  At this location, we focus on helping our business customers with product acquisition and with service for new and existing systems, as well as helping our consumer customers  with their service needs.
Phone: 512-323-6666.
Downtown
Austin MacWorks Downtown is located on 2nd Street, just east of San Antonio Street, right beneath the Violet Crown Movie Theater. Here, we work with retail customers and offer service to both businesses and consumers. We can validate garage parking for 2 hours before 5 pm on weekdays.
Phone: 512-476-7000
The Team
Our personnel are highly experienced and educated experts.
Between them, Ramana and Srini Tatineni hold the following Apple Certifications: Apple Certified Desktop Technician, Apple Certified Portable Technician, Apple Certified Macintosh Technician, Apple Certified Technical Coordinator, and Apple Certified Help Desk Professional.
In addition, Srini Tatineni has a Master's Degree in electrical and computer engineering.
Norm Gardiner has been working on computers for over 30 years and Macs for over 10 years.
Hours
North Central
Monday – Friday 10 A.M. to 5 P.M.
Saturday 10:30 A.M. to 4 P.M.
Closed Sunday
Downtown
Monday – Friday 10 A.M. to 6 P.M.