Apple announced several new products yesterday—so many that our heads are spinning! Here's a quick synopsis of all the new offerings. We'll keep you posted as to when these goodies are available in store.  Be sure to like us on Facebook and follow us on Twitter so you get all the latest info!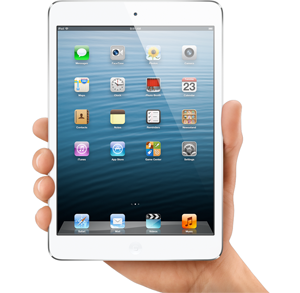 The iPad mini
It's a sleek, thin and light 7.9-inch tablet made of anodized aluminum and glass that follows the format reduction pioneered by Google and Amazon. It's really light and thin at 0.68 pounds and 7.2 millimeters.
It has better specs and it's thinner and lighter than the Amazon Kindle Fire HD and the Google Nexus 7, but much more expensive too.  It starts at $329 for the Wi-Fi only version, with 16GB of storage. The 32GB and 64GB are $429 and $529. If you want the LTE connectivity, you will have to pay $130 more.
The iPad 4
The new regular-sized iPad has a new, twice-as-fast processor and U.S. 4G-LTE coverage. The new iPad comes with Apple's Lightning connector. Previous versions featured the significantly larger 30-pin connector that Apple has used since 2003. This new iPad replaces the iPad3.
Apple's 9.7-inch iPad lineup starts at $399 for the iPad 2 and $499 for the fourth-generation iPad.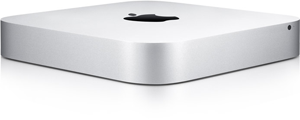 The new Mac Mini
The Mac mini still starts at $600 (or $1000 for the server version), but its options for internals have been upgraded across the board. The new Mac mini sports a third-generation Ivy Bridge 2.3-GHz Intel Core i7 processor,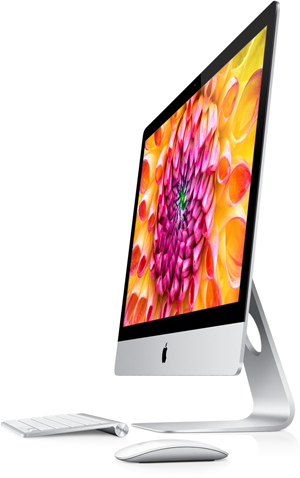 The new iMac
Still available in 21- and 27-inch models, the 8th-generation iMacs have been slimmed down as much as 80% in places and (depending on options) are up to eight pounds lighter.
By eliminating the optical drive and implementing full display-to-glass lamination for a 45% thinner display system, Apple's engineers have built an all-in-one PC that's just 5mm thick on all edges.
Both the iMac and Mac Mini introduce a new storage feature, which Apple calls the "Fusion" drive. By dynamically integrating a 128GB solid state drive with a 1TB hard disk through OS X, the new Fusion drive purports to offer nearly the same level of performance as an SSD without making the typical sacrifice in storage capacity.
The 21-inch iMac starts at $1300 and begins shipping this November. For a new 27-incher, you'll pay at least $1800 and have to wait till December.
13-inch MacBook Pro Retina
The new Macbook is sleeker, clearer, and slightly more expensive than the 13-inch Macbook Pro, the Retina Display's predecessor, which came out back in June. For $1,699, Retina Display users get a 2.5-GHz, dual-core i5 processor with 8GB of RAM and 128GB of storage (For an extra $300, users can purchase an extra 128GB of storage). Buyers can also opt for the dual-core i7 Ivy Bridge CPU. The updated Mac is only 0.75 inches thin, 20% thinner than its predecessor. It weighs in at 3.5 pounds, making it the lightest MacBook Pro ever. For user convenience, it comes pre-loaded with Mac OS X Mountain Lion and supports 802.11 Wi-Fi, as well as Bluetooth 4.0. Apple has promised up to seven hours of battery life.