Austin MacWorks is stocking up on all the latest accessories for your iPad. With iPad hardshell, soft cases, screen protectors, fold out cases and much more. iPad cases from Sonix, Nextware, XGear, Marware, iFrogz, Speck, MacAlly, Otter and Brenthaven are in stock now to compare for your iPad needs.
Two of the most interesting iPad cases available at Austin MacWorks are the EcoFlip from Marware and the Otterbox Defender Series for iPad.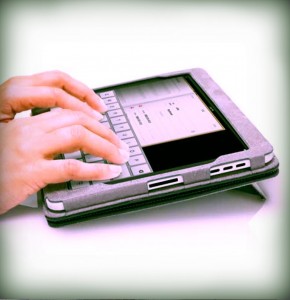 The EcoFlip offers an elastic hand strap with a foldaway display stand and the ability for the front cover to be used as a stand for your iPad. The EcoFlip also comes with an elastic closure strap for extra security of your iPad.
The Otterbox Defender case for the iPad is the ultimate in protection for your iPad. The Otterbox Defender gives you three levels of protection that include a removable front cover that also doubles as a stand and includes a military grade screen film cover. The OtterBox Defender for Apple iPad is the perfect companion that gives you the ultimate protection of your iPad. The OtterBox Defender  gives you the freedom to take your iPad out to the lake or on the metro without fear of trashing your iPad.
Both the EcoFlip and the Otterbox iPad Defender are in stock and available now at Austin MacWorks, along with a full line of hardshell, sleeves, screen protectors and all of the newest and most sought after accessories available for the iPad. Stop in today and check out one of the most complete selections of iPad accessories in Austin and the Central Texas area.