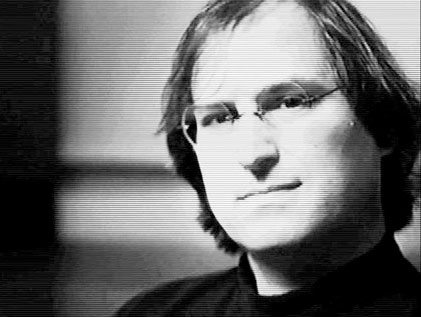 Steve Jobs: The Lost Interview, a documentary feature, will open at select Landmark theaters in 19 cities around the US beginning May 11, including in Austin.
The interview was conducted by Robert Cringely a few months before Apple bought NeXT and brought Jobs back to the company he co-founded nearly 20 years earlier. Some small portions of the full, hour-long interview were used in Cringeley's PBS series The Triumph of the Nerds but the bulk of the interview was long thought lost until a VHS copy turned up in director Paul Sen's garage last year. A version of the film was screened in a handful of theaters late last year for award considerations.
Resolution enhanced
The resolution has been enhanced for the film using digital cleanup techniques, and Cringely provides some context and linking narrative. Even before NeXT was purchased by Apple, Jobs was feeling successful and vindicated—NeXT had successfully reinvented itself as a software company following its hardware failures, and Pixar Studios' first major release Toy Story had become a massive hit. The interview shows Jobs "at the top of his game," according to Cringely, and says the movie is full of memorable quotes, stories from the early days pre- and post-Apple, and "Steve moments."
Jobs' Musings
Included in the documentary will be some of Jobs' musings on the (then) future of technology, outlining a number of ideas that found their way into Apple in later years, and on his overall philosophy on technology and business. The trailer, which first surfaced last November, shows that the interview is the source of the now-famous "the only problem with Microsoft is that they just have no taste" quote.
You can see the movie in Austin at the Violet Crown Cinema.
Here's a video trailer of the movie: