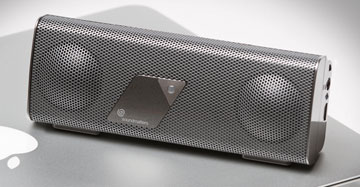 We here at Austin MacWorks love the FoxL V2 Bluetooth Speaker.  What amazing sound from such a small package!
Made by SoundMatters, this amazing little device belts out sound from smart phones, tablets, laptops, gaming and more. We like the Bluetooth version, but there's a wired version, too, if that works best for you.
Industry insiders agree the FoxL is a must-have: "The Soundmatters FoxL is tiny, even for a portable speaker, but has a well-muscled sound that beats out squawk boxes twice its size," writes Wired.com critic Chris Jones.
FoxL was developed by Soundmatters founder and audio design legend, Dr. Godehard Guenther —a physicist and former NASA engineer.
"Music is a big part of my life, yet so is travel. There weren't any really small hifi-quality portable loudspeakers, so utilizing a number of our patented and proprietary technologies, I developed one myself. A true labor of love. I named it after Fox, my 1st grandson. Listen and enjoy," says Guenther.
Drop by Austin MacWorks soon to select your FoxL!