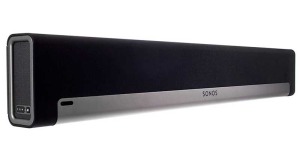 One of our longtime customers is so enamored of her new Sonos Playbar that we asked her to let us write an article about why she loves it and how she uses it. She's a little shy, so we're using an alias, but the her love of Playbar is 100% true.
Elizabeth Witz and her family had a couple problems they wanted to address n terms of home audio. Their big fancy TV didn't have the best sound quality. They felt something was lacking. They found themselves cranking the TV volume up really high, but this didn't fully solve the problem.
Additionally, they knew they wanted some sort of speaker so they could stream digital radio and playlists from their phones.
Witz said quality was really important to her and her husband. After much research in investigation, they settled on a Sonos Playbar, a terrific starter piece in the Sonos home audio system.
Sonos is a smart system of HiFi wireless speakers and audio components. It unites your digital music collection in one app that you control from any device.
The family is thrilled with the PlayBar. "I love that I can launch the Sonos app from my iPhone and play one of my Pandora playlists — in a snap," says Witz. "And my three sons, too, have found it really easy to use. Of course, sometimes, there is a bit of back and forth as to what music to play!"
Witz says setup was incredibly easy — it took about 5 minutes, she says. "My 13-year-old did it for us."
The full-theater HiFi sound from the TV is leagues better, too, Witz says.  "The clarity is there now."
The easy expandability of Sonos system was an important consideration to the Witz family, too. "As we are able, we'll add Sonos components to make our sound system even richer. We'll finish out the living room and then move into other rooms," says Witz.
To learn more about the Sonos system, watch this video.