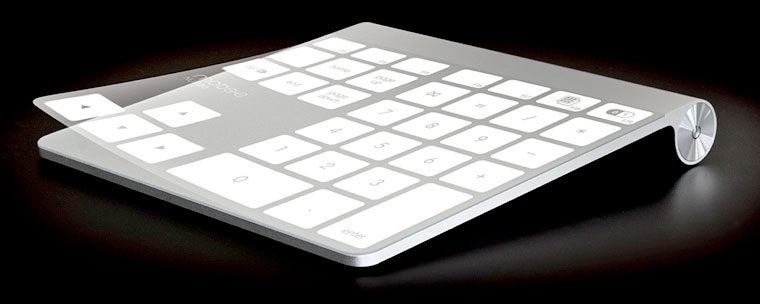 Mobee Technology's nifty Magic NumPad transforms your ordinary Magic Trackpad.
By applying one their of three magical, reusable films onto your Magic Trackpad, you can turn it into a numeric keyboard with a space for Trackpad gestures, or a full numeric keyboard, or a numeric keyboard with configurable buttons for increased usability.
It's easy. You download the free software from the Mobee site, you apply the magical film you want to use, you tell the computer which film you're using and you are instantly ready to use the Magic Numpad.  With just a couple of clicks you can tell the computer what to use the configurable buttons for, and then when you tap those buttons, more functionality is extracted from the amazing Magic Trackpad.  You can turn it off with the touch of one button and revert to original Trackpad use even with the Magic Numpad film on it!  You can, with one click, launch a calculator on your computer screen and use the Magic Numpad quickly, without the need to use Excel, for simple calculations.
Your desktop remains the same; the Magic Trackpad with a Magic Numpad applied is as Apple-Esque as your computer.
About $30.