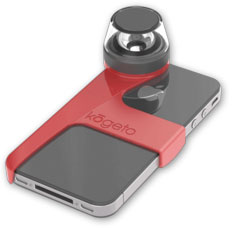 We here at Austin MacWorks love this nifty little video camera. The Kogeto Dot allows you to shoot 360° panoramic video from the palm of your hand.
Snap Dot onto your iPhone 4 or 4S, download the free Looker app, and instantly record fully immersive 360° videos right on your iPhone. Going to a concert? You can record the show and the audience. Heading out on a road trip? Leave Dot on the dashboard and record your highway adventures. No matter what you're recording, Dot sees everything!
Watch your videos on your iPhone 4 or 4S by swiping your screen to virtually spin around, or switch modes and view them in panoramic widescreen. Looker allows you to instantly share your 360° world with friends and family (via email, Facebook, Twitter or Kogeto.com) right from the palm of your hand.
Kogeto's compact and durable iCONIC lens works with the iPhone 4 / 4S HD video camera to capture full 360° video — all at once — without stitching frames together. Its unique catadioptric optical system is fully AR-coated for excellent color fidelity in all environments. Dot is a lightweight attachment that doesn't require batteries or external power.
Dot comes with a microfiber pouch that doubles as a lens cloth.
Pop in to Austin MacWorks and check it out!
Here's a page of Kogeto Dot videos, from the manufacturer's web site.
Here's a video a YouTuber shot using the Kotego Dot (thanks to HopsNScotch):