We here at Austin MacWorks love this external drive that's perfect for adding more media storage to your iPad/iPhone/iPod Touch.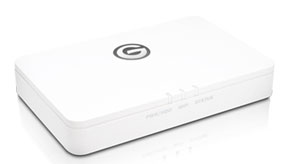 G-Connect from G-Technology is a wireless storage device designed for on-the-go access to content through the iPad and iPhone. Use it to access content that's not already loaded on a mobile device, including movies music, books, photos, and documents. It's a great way to expand the storage of your idevice.
G-Connect can wirelessly stream high definition content to up to three devices or standard definition content to up to five devices simultaneously. It even acts as a WiFi Internet access point for five+ users!
Load content either wirelessly or through a fast USB 2.0 port from a computer to G-Connect. iPad and iPhone apps are available for quick and convenient access, and password protection means secure control over valuable content. G-Connect is the ideal storage device for the home, dorm room, office, or hotel.
Available at Austin MacWorks, $249.99.