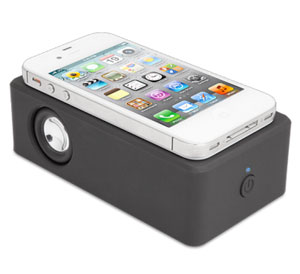 If you need to amp the volume on your device, the Boost speaker is the perfect solution.  This amazing devices gets raves from everyone who walks through our doors!
The iFrogz Boost NearField Audio speaker is so simple. Just put nearly any smartphone or digital media device on top of the Boost with the external speakers playing, and the Boost magically amplifies the sound. It just works. No wires. No Bluetooth. No Synching. No problem. An auxiliary line-in jack is provided for devices without external speakers.
Many have asked if the Boost has a hidden microphone to pull this off. Nope. The Boost uses patent-pending NearFA technology that actually syncs the audio signal from inside your device before pumping it out the two high-quality 2W x 2RMS speakers. Your tunes are then boosted with room-filling sound.
The Boost gives up to 15 hours of play time when powered by three AA batteries—or can be powered by a Micro USB cord (sold separately). When on battery power, it can remain in Standby mode for up to 6 months.
At only $40, you can get one for yourself, a couple for gifts! Stop by Austin MacWorks today.