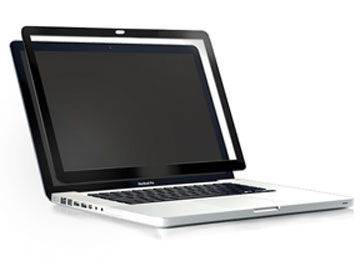 Wish you had an anti-glare screen on your MacBook Pro? Hate that your screen-protector film has bubbled up on your iPhone?
Moshi's iVisor is the solution for you. Available for all Apple Computers and iOS devices, this removable, washable anti-glare film is not only guaranteed to be bubble-free, but it is easy to apply. Put it on your iOS device for convenient screen protection that will outlast the average static-cling screens.
iVisor for iPhone 4/4S and iPod Touch is an advanced protector that protects the  front glass display from everyday wear and tear.  Unlike traditional screen protectors that require tedious installation procedures, Moshi's proprietary design and patented technology allows installation in seconds without any air bubbles, making it the easiest screen protector to install on the market today.  iVisor's multilayer construction is engineered to offer excellent scratch/smudge resistance while retaining optimal touchscreen sensitivity and feedback.  It is also equipped with Moshi's new polymer adhesive that allows for repeated cleaning and re-application.
iVisor Pro and Air offer next-generation screen protection for your Mac laptop. Utilizing Moshi's proprietary technology, iVisor is the only screen protector on the market today that can guarantee a bubble-free installation in seconds.  Its new multilayer coating ensures absolute clarity while reducing glare, effectively relieving eye strain.
Learn more and get your device fitted with the right iVisor today at Austin MacWorks, Central Texas' premiere Mac shop.