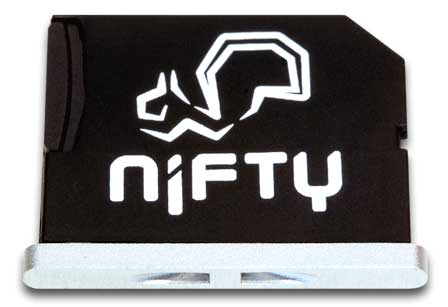 The Nifty MiniDrive is one of the newest and most interesting accessories we've added to our stocks lately.
It's a simple-to-use, non-destructive storage device that lets you add up to 128GB of extra space. It comes stock with 4GB for $39.99.
It also weighs next to nothing, fits snugly into your MacBook's SD card slot and is pretty much invisible once plugged in.
"In an age of Wi-Fi cameras and mostly cramped SSD storage, they're a great little addition to any Mac notebook setup," says TechCrunch.
Engineered to very high standards, MiniDrive is capped with precision-machined and hand-polished aluminium before being carefully assembled, tested and shipped. The color, shape and fit match your MacBook perfectly.
No software is required for the Nifty MiniDrive from Austin MacWorks.  You just plug it in and you're set.
The MiniDrive integrates with your MacBook's native Time Machine. Setting up a daily back-up of your critical files takes seconds, and will run automatically while your MiniDrive is present.
The MiniDrive is water- and shock-proof. If the worst happens you'll still have all of your important files available.
We're loving this little device. Come in and check it out!