Austin MacWorks is ready to help you give your MacBook Pro an elegant feel and smooth look with this lightweight, form-fitting MacBook case.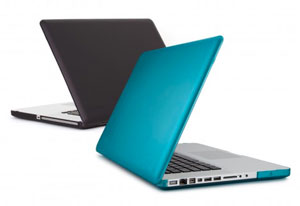 You'll get a splash of color and a layer of reliable protection with SeeThru Satin – a hard-shell, form-fitting case. This sturdy MacBook case features a luxurious, satin-like finish that snaps on securely in two pieces. The covers feature added details like vent slots for heat disbursement and rubberized feet for stability, making the Satin as highly functional as it is delightfully vivid.
Show your colors. Dress your MacBook Pro in vibrant color with a velvety finish.
On-the-go protection. Form-fitting, softtouched hard shell keeps scuffs and scratches at bay.
Stay cool. Rubberized feet and vent slots keep your MacBook from overheating.
Elegant design. Lightweight two-piece design is easy to snap on and off.
Available at Austin MacWorks, $49.95.