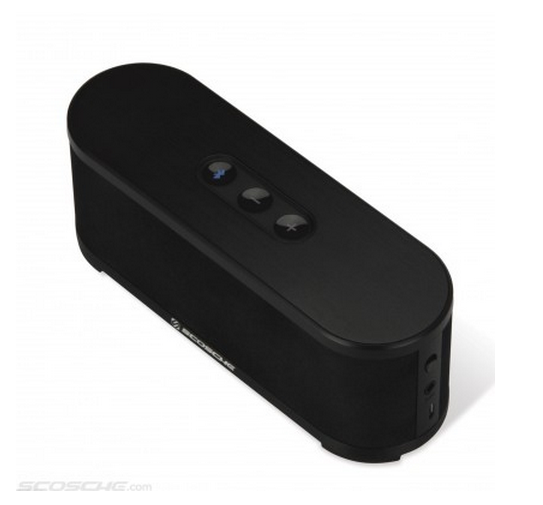 We just got these amazing Bluetooth speakers in . . . you gotta come in to the store to really experience them. From Scosche, these wireless media speakers offer remarkable audio in a portable, compact and lightweight package.  The brushed aluminum surface and intricate speaker covering make the boomSTREAM aesthetically appealing, too.
Dual 40mm drivers and a down-firing passive subwoofer give you an enhanced bass response. boomSTREAM produces a phenomenal audio signal that offers an excellent listening experience.
The built-in rechargeable lithium polymer battery provides up to 8 hours of continuous playback time. An integrated 2.5 Watt (500mA) USB charging port allows you to give your phone or music player a battery boost when you need it (includes USB charging cable).
This Bluetooth receiver is great for wireless audio streaming of music, podcasts, movies, games and more. This dynamic speaker also includes a built-in microphone, making boomSTREAM an enhanced speakerphone for your smartphone. Enjoy clear and crisp media playback and phone conversations.
Use boomSTREAM around the house, in the garage or your dorm room. This lightweight media speaker can also be easily transported so that you can enjoy your favorite music outdoors, at the office and everywhere in-between.
Enjoy wireless media playback on your favorite Bluetooth enabled devices including iPhone, iPad, iPod touch, Android Devices, Smartphones, Tablets and more. A 3.5mm auxiliary input has also been included for connecting other devices without Bluetooth such as MP3 players, gaming devices and more (also includes a 3.5mm audio cable).
iPod touch (2nd, 3rd and 4th generation), iPhone 4S, iPhone 4, iPhone 3GS, iPhone 3G, iPad (3rd generation), iPad 2, iPad, Android Devices, Smartphones, Tablets and other devices with A2DP streaming audio.
Using the included 3.5mm aux cable, this speaker also works with older iPod models, MP3 players, gaming devices, smartphones, tablets and other devices with built-in aux outputs or headphone jacks.
At Austin MacWorks, $69.99.