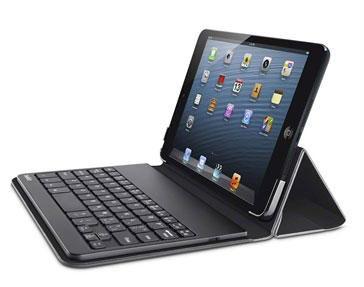 Austin MacWorks is pleased to announce we are now stocking Belkin's Portable Keyboard Case for iPad mini.
This keyboard and case in one offers iPad mini users a convenient and comfortable alternative to touchscreen typing. The durable case safeguards your device from scratches and scuffs. A well-spaced keyboard has been integrated into the case and allows you to type faster and with fewer errors than on the iPad mini's touchscreen. The keyboard connects to iPad mini via Bluetooth and offers shortcut keys for easy typing and quick access to media controls.
With a key pitch similar to that of full-sized keyboards, the Belkin Portable Keyboard Case for iPad mini simplifies  typing-heavy tablet activities. Each of the keyboard keys has a scissor key mechanism that provides tactile feedback when struck.  Additionally, shortcut keys specific to iPad mini allow you to easily adjust volume and control your music or video.
This 3/4-inch-thick case weighs 9.8 ounces and snugly fits the iPad mini, keeping it compact enough to slip into a bag or purse.
The keyboard folds flat onto the case so it stays out of your way when viewing media on your iPad mini. The case offers protection for the iPad mini with its soft bicast leather on the outside and grip suede on the inside, helping to protect your iPad mini from scratches, scuffs, and wear.
A cutout in the case's back makes it easy to take pictures without having to remove your iPad mini from the case.
With low-powered Bluetooth 3.0 and a 200 mAh battery, this keyboard doesn't compromise long life for its slimness. In fact, it can last for 155 hours of active use without needing another charge.
In the box, you get: Belkin Portable Keyboard Case for iPad mini, USB-to-Micro-USB charging cable, and user manual. $79.99 at Austin MacWorks.