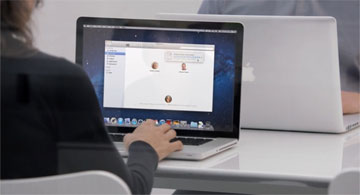 More and more businesses are switching to Macs, and Austin MacWorks can help you get your business set up with Macs and whatever computing-related products you need.
Whether you need a mobile solution or a powerful desktop, the Mac lineup has it all, including security and compatibility.
From notebooks to desktops, Apple offers an amazing lineup of Macs to meet your business needs. Every Mac comes with the latest operating system, OS X Lion, which allows it to easily fit into your existing business environment. Features include built-in support for the latest version of Exchange and a powerful platform to run the most common business apps. OS X Lion also contains new features — such as Mission Control, AirDrop and Auto Save — that change the way you use a computer. And with the Mac App Store built into OS X Lion, you can discover and download even more great apps for business.
OS X Lion Server provides simple, innovative tools to help you set up and monitor all your key business services. Powerful yet streamlined, Lion Server makes it easier than ever for the people in your organization to collaborate, communicate, and share information.
Austin MacWorks has more than 15 years experience helping businesses with their computing needs. We can help you—down to the smallest detail— no matter how big or small your needs. Need printers or scanners? Need your computers to talk to each other? We can help. We understand small businesses, and know the most cost-effective and efficient way to help small companies do amazing things.
And we'll stay with you even after your computers are all installed. Something go haywire? We offer the best Mac service and Mac repair in Austin, and we'll stick with you even after the sale is made.
Call Austin MacWorks today (512-323-6666) and let us be your partner in success!