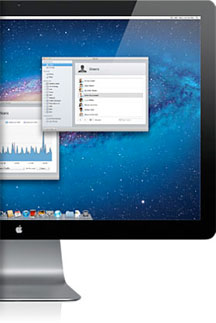 While many still think of Macs as the toys of designers and artists, the iconic Apple computer is more and more often finding a home in the enterprise world, performing essential business functions. Big companies and small are using Macs not only to design marketing materials but also to manage critical business tasks.
Apple will sell an estimated $19 billion in Macs and iPads to enterprises in 2012, a 58% jump over the year before, according to a research analyst.
And in 2013, corporations will spend $28 billion on Apple computers and tablets, said an analyst with Forrester Research. Apple's resurgence among business users was profiled in a report by Forrester entitled "Apple Infiltrates The Enterprise."
Although Apple's share of the enterprise market is still small compared to rivals like Microsoft and Windows computer and tablet manufacturers, Apple's uptick is nevertheless impressive.
The Forrester study indicates around half of all large companies with 1,000 employees or more are buying Macs, while more than a fifth of all "information workers" are now using at least one Apple product to do their work.
It also noted that companies buying Macs plan to increase their purchases by 52 percent this year. The study was based on interviews with 3,300 Information Technology decision makers and an additional 10,000 workers across 17 countries.
Forrester charted dynamic growth for Macs among enterprise users, noting that the percentage of companies issuing Macs to their workers has grown from 30 percent in 2009 to 37 percent in 2010 and 46 percent over the last year.
The research also indicates that Apple devices in general are most popular among workers with a senior position, higher wages and among younger workers.
As cutting-edge companies such as Google, where approximately less than 20 percent of the company still uses Microsoft Windows, switch to Macs, and even develop technology for the Macs, it's definitely becoming a Mac, Mac business world.