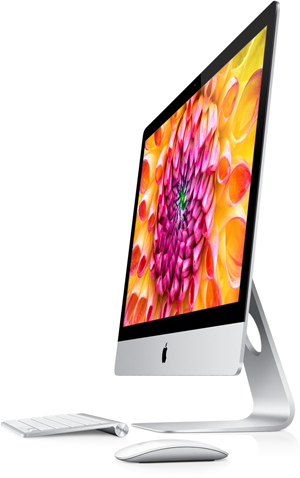 Apple offers great information for businesses who want to use Macs.
Tools for getting started
Mac OS X offers unparalleled productivity tools for your startup. Not only is it intuitive and easy to use, but you'll be amazed by all the ways it can help you grow your business and manage your life. Here are just a few of the business-friendly innovations in Lion:
iChat AV
Free and easy. Built-in audio and video conferencing allows you to show your presentations, videos or photos in real time online. Oh, and there's one more thing every new business likes about iChat: It's free3.
Screen Sharing
An amazing collaboration tool. If you're on the go but need to work closely with clients, employees — or even family and friends — Screen Sharing lets you access another Mac screen (with permission, of course) so you can work together as though you were in the same room.
Time Machine
Work without worry. Time Machine is a set-it-and-forget-it backup system that can rewind your computer to the moment right before you hit the delete button or to a date in the distant past. Talk about peace of mind.
Quick Look
Every second counts. With Quick Look, you'll be amazed how quickly you can flip through your files — without having to wait to open the document or the program first. With all the hours you're investing in getting your company off the ground, the more time you have for productivity — and life— the better.
Stacks
Keep your Desktop clutter-free. Lion's Stacks feature lets you see all files in a folder at a glance right from your dock. It's so fast and easy, you'll wonder how you ever kept track of your business or personal stuff any other way.
Spotlight.
Seek and you will find. With Spotlight, you can find files anywhere on your desktop, network or server. It's an easy way to access the information you need, anytime.
Learn more about how Lion's incredible features can help your work and life.
iLife
Every Mac comes loaded with iLife, a multimedia suite which can help you grow your new business — or impress your friends and family. iLife makes it easy to build portfolios, create podcasts, develop websites and much, much more.
iWork
Every startup business needs powerful communication tools. iWork delivers with Keynote, Pages and Numbers. These Mac apps can help you create gorgeous presentations and marketing materials and more.
Swear by your computer, not at it.
Good news: you won't need an army to maintain your Mac. In fact, Mac business users feel empowered by the intuitive, self-service quality of their computer. You'll be amazed by how secure the fully compliant UNIX technology in Lion is. Plus, Mac software is engineered to work with Mac hardware. So your computer is less likely to fall victim to the conflicts and crashes that plague PC owners.
Help is here. Here. And here.
If you're a first-time Mac user, you may want help getting started or getting questions answered. We offer lots of options. Visit any Apple Store for free business workshops, One to One training, to chat with a Business Consultant, or get live tech support from the Genius Bar. Purchase ProCare for only £77 per year, and you'll get priority service at the Apple Store. You can extend your 90 days of complimentary support with award-winning AppleCare. The AppleCare support team can answer the simplest questions about an application or help you troubleshoot any issue you might be having. And of course you can always visit our online support pages.
Mac or PC. We don't discriminate.
Why choose? While most popular applications for Mac and PC use the same file formats, making it easy to exchange documents between Macs and PCs, a Mac is the only computer that can run both Mac and PC operating systems and software. So not only is a Mac compatible with Microsoft Office and thousands of other applications, it's the only computer that can run Windows and Mac applications side by side1. It's like you're getting two computers for the price of one—not a bad deal.
Startup Simplicity
The Mac is plug-and-play, meaning it will automatically connect on a network and work with your peripherals. Just open it up, plug it in and start working. With a Mac, you'll spend way less time worrying about your computer and way more time looking for ingenious ways to build your business.
The Mac Daddy of business computers.
Our business customers tell us that Macs do more for their business, more easily than any other