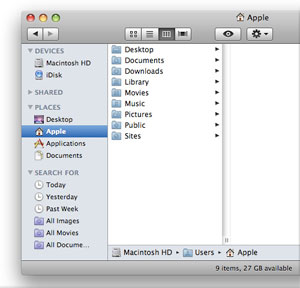 Whether you share a Mac with others or have one all to yourself, you can find all your personal data — documents, downloads, music, and more — in the home folder Mac OS X created for you when you set up your Mac (or when someone created an account for you).
You can spot your home folder easily: It's the one with the icon of a house and your account name. And if you place it in the Dock, you can open it quickly without having to open any folders. Here's how:
In the Finder, click the icon for your hard drive. (Unless you've renamed it, it's probably called Macintosh HD.)
Open the Users folder.
Then drag your home folder from the Users folder into the Dock and release the mouse button.
Now, whenever you need anything in your home folder, you can access it quickly from the Dock.