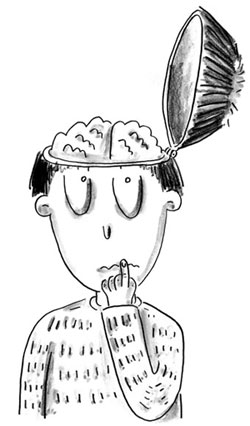 MacWorld offers these great ideas for avoiding summer brain drain.
1. Learn at your own pace
If you check out only one resource for your elementary-, middle- or high-school-aged kid this summer, make sure it's online learning sensation Khan Academy, also available as an iPad app. This non-profit educational resource, backed by the Bill and Melinda Gates Foundation, originally started as a collection of tutorial videos Salman Khan made to help his cousin with her math homework. After he became a YouTube sensation, Khan quit his job as a hedge fund analyst and turned Khan Academy into a immense free resource with more than 3100 instructional videos covering K-12 math, science, and humanities topics.
Videos run no more than 10 minutes long. Math topics and are supported with interactive challenges and assessments. Kids can earn badges and points in a variety of ways. Parents can also check in using a "coach" account to see extremely detailed reports about how the child is faring. This is the best resource yet for self-paced learning.
2. Build Legos with the astronauts
Lego fans always have loads to do during the summer. While away the afternoon with new Lego Mindstorms projects or a Lego ideas book like The Lego Mindstorms NXT 2.0 Discovery Book: A Beginner's Guide to Building and Programming Robots.
Or, for a new twist, try out some Legos in space. Last year, the space shuttle Endeavour took a set of kits up to the astronauts on the International Space Station. Now you can follow along with their work on Lego and NASA's joint site, Legospace.com. The site is geared to classrooms and filled with activities. Kids will get a kick out of the many videos of astronauts assembling models and explaining simple machines while floating around in jumpsuits.
3. Try this at home
While parents-in-the-know everywhere ready their Mentos Geyser Tubes at the first hint of long summer afternoons, many of us need some ideas for hands-on science projects to share with our kids. The venerable Steve Spangler Science site is filled with kits, ideas, and videos. For instance, don't miss the Geyser Rocket Car or Instant Snow Powder.
The ambitious parent-kid team may enjoy Make magazine's DIY projects.For the very, very ambitious, Make Magazine also includes a section of project for kids and their parents. Some are reasonably easy, like the Marshmallow Shooter, others will require soldering electronics, like the Gigantic Bubble Generator.
Don't fail to check out more home-grown sites too, like Kitchen Pantry Science, that show you how to do science experiments with ingredients you most likely have tucked in a cupboard. These projects are simple and easy to set up, from how to create your own Angry-Birds-style slingshot game to making invisible ink.
4. Forget flash cards
Feed the world while you memorize geography and multiplication tables at Freerice.com.Free Rice adds a different twist to learning things by rote: the more questions you answer correctly, the more you help others. This non-profit website is run by the United Nations World Food Programme. Sponsors donate 10 grains of rice to hungry people across the world for each question you answer correctly. Categories include world flags, countries, capitals, multiplication tables, chemistry symbols, famous paintings, vocabulary from four foreign languages, anatomy, SAT prep, and more. Keep track of your scores and even create a team so classmates or friends can work together. With every right answer, rice piles up in your virtual bowl. What better motivation to memorize?
5. Get ready for the APs
Nervous about next year's AP classes? You can brush up on the basics with online courses from McGraw-Hill.ONBoard online courses from McGraw-Hill help high school students prepare for next year's Advanced Placement classes. Schools can purchase this review for their students or students can subscribe on their own for $50 per class with 12-month access.
The courses go over skills and concepts for classes including AP Biology, Economics, Environmental Science, Psychology, US Government & Politics, US History, and World History. For example, the AP US History class covers how to analyze primary and secondary sources as well as how to gather and organize information.
Students complete interactive exercises and quizzes, and at the end of each class, receive a final assessment so they know what they need to work on next.
6. Train your brain
The "brain training" site Lumosity is full of games designed to improve overall cognitive qualities, like memory and attention.One of the hottest areas of online learning is "brain training," games designed to help improve overall mental qualities like memory, attention, speed and problem solving. Lumosity boasts more than 20 million subscribers and a long list of academic endorsements. You'll find games targeted to school-age children in its student section, Lumosity Scholar as well as some designed to help with specific learning differences like ADHD. Games include Word Bubbles, Face Memory Workout, Memory Matrix, Speed Match, and more. The site tracks your progress over time.
A 1-year gift subscription costs $80; a 1-year family membership, with up to five accounts, costs $130. The Lumosity.com games require Flash and can't be played on your iPhone or iPad. However, the company does offer a small subset through six iOS apps.
7. Become a coding ninja
Does your kid long to code? This strangely named site, Codecademy—look again, it's not actually "Code Academy"—offers free programming instruction in a fun, accessible way. Build your knowledge through manageable exercises on programming basics, CSS, HTML, Javascript, and more. Each module is followed up with a project—from creating a recipe card to making a fully-working blackjack game—that brings together the skills you've learned.
8. Goose your gray matter on the go
If your kid loves puzzles, Mensa Brain Test may fit the bill.Wake up a sleepy head with the Mensa Brain Test from American Mensa. This $2 iPhone app helps boost your logic, mathematics, language, and visual skills through training exercises. Tests and exercises take anywhere from five to sixty minutes a pop, so it's easy to fit in a mental workout while waiting in line for the wave pool or killing time in the backseat during the family roadtrip.
Younger kids might appreciate iPhone and iPad games in the TeachMe series, including the $1 TeachMe: Kindergarten, TeachMe 1st Grade, and so on. Kids practice skills like addition and sight words and use the app's handwriting recognition to write their answers on-screen. Best of all (according to my daughter), correct answers earn coins to decorate an interactive aquarium or to collect onscreen stickers and Silly-Bandz-style bands.