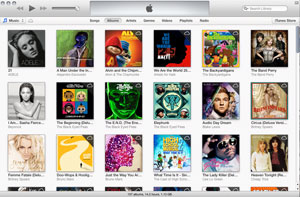 Check out this great hint from MacWorld:
Up Next can be used to play one song then stop playback in iTunes. Also, using this method, it can be accomplished entirely from the keyboard. (It's important to note that "All controls" must be checked at the bottom of the Keyboard Shortcuts tax tab in the Keyboard pane of System Preferences.)
The objective is to be able to select a single song in a playlist, make it start playing, then prevent playback from continuing after the song has been played in its entirety. This can be done in iTunes 11 by selecting a song to play using alternating key presses of Tab, Shift-Tab, Up Arrow and Down Arrow. The next step is most important: open the Up Next list with Command-Option-U, and check to be sure no titles appear in the list (if there are any, press Tab until the "Clear" button is highlighted, then press the spacebar to "click" that button; otherwise press Escape or Command-Option-U again to exit the list), then press Return to play the song. You can pause and resume the song with spacebar if desired, and playback will still stop at the end of the song as long as you don't add anything to the Up Next list in the meantime.