The cool iPad accessories are starting to roll in at Austin MacWorks. We've recieved three new iPad items in the last couple of days.
If protection is paramount for your new iPad, check out the new MacAlley Metropad.
The Metropad case offers a durable, lightweight mirrored finish protective hard-shell for maximum protection and coverage, all the while giving you open and easily accessable connections to the iPad ports and controls.
If you're looking for protection with eco-green style, check out the new Bill-Fold iPad case by Brenthaven. It's made with 100% recycled Billboard material!  And no two sleeves are the same!  The Bill-Fold features corner protection and a faux-suede liner to help keep your iPad scratch free.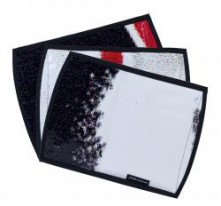 The Nextware Anti-Glare Screen Shield for iPad will protect your screen from those ever pesky finger smudges and cuts down on glare. The tough protectors works by reducing glare and provides protection against scratches on the iPad screen.
These three cool iPad accessories are in stock and available now at Austin MacWorks.