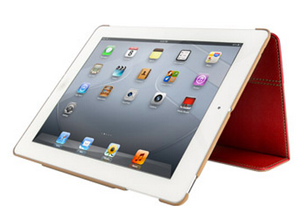 Check out these stylishly functional iPad cases that Austin MacWorks has in stock!
Pelle is an ultra-thin protection solution unlike any other in the market. Pelle is unique in its class as it is thinner and tougher than any of its competitors. Featuring a unique key lock design, Pelle allows you to easily change the viewing angle of your iPad with a flick of the lock. Pelle  also features a maintenance-free polyurethane faux leather front cover with a ultra-tough back shell processed with matte rubber coating. In addition, our special pink and turquoise edition features a special gold lock accented with Swarovski Crystals for the fashion conscious in you.
The thing that makes Pelle really special is how it allows you to use your iPad.  Pelle folio design plus stand function offers up a completely new way to enjoy your iPad. Providing multiple viewing angles, Pelle lets you enjoy your content on the go, the way it should be enjoyed. Stand assembly is both quick and easy— just flip the cover around and your iPad will stand solid with landscape view. For other viewing angles and for typing, just pull the key lock and flip the cover around.  Pelle also works great as a folio with a fully rotating cover that makes confined viewing on a busy bus or train simple and convenient. And when you're done, just flip the cover back around and secure with the snap-in clip.
Pelle's auto-sleep feature is fantastic functionality  for the energy conservationist in you. With a simple flip of the cover, your iPad will be automatically turned on or off as you please. The cases are available in a variety of colors.
Among Pelle's features:
Unique Key Lock design for changing viewing angle
Maintenance free Polyurethane Faux Leather front cover
Ultra tough polcarbonate back shell processed with matte rubber coating
Ultra slim folio design
Automatic On-Off function for the iPad 2/ the new iPad (2012)