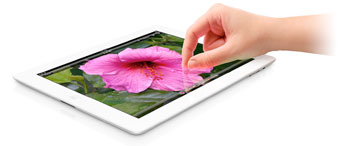 If you haven't already purchased your new iPad, you probably will soon, and you'll want to transfer your data from your old one to your new one. We told you a couple weeks ago about how to do move your data via iTunes, and now we'll tell you about a different way of doing it, via iCloud.
On your old iPad, go to settings, select iCloud and then choose Storage and Backup. Then tap on Backup Now.
On  your new iPad, select Restore From iCloud Backup from the Set-up screen.   Login to your iCloud account, select your most recent backup, and select restore. Let the transfer load onto your new iPad and you're done.  Easy!