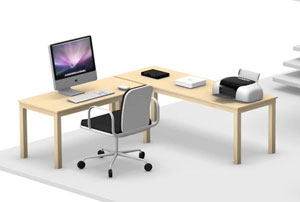 Setting up a wireless network might seem scary, but really, thanks to Apple, setting up a wireless network is simpler then ever.  To view a video of how to set up a wireless network click here. Or, see the instructions below:
Requirements:
Wifi-enabled computer
Apple Airport Base Station: Airport Express, Airport Extreme, or Time Capsule (which also has a hard drive to wirelessly back up your data)
High-speed Internet service
Steps:
Set Up your Apple Base Station
If Aiport Utility is not already on your computer under Applications > Utility, then download it with the CD provided when purchasing an Apple Airport Base Station.
After that Launch the Application
The application will locate your new Apple Airport Base Station
Select the Base Station on the left and then click continue on the bottom right
On the next screen you will name your Base Station and give it a password, then click continue
After that select the top option of creating a new wireless network and continue
Then name your wireless network and add a password
In the next screen you are able to make a guest network by checking the enable box, giving the guest network a name, and a password. This also helps so your guests do not access private network and information.
Then use the default box selected for the how to connect to the internet page and  continue
Finally, confirm settings and update to apply your settings
Austin MacWorks can help you make sure you've got all the right equipment. Stop by and let us help you get set up!