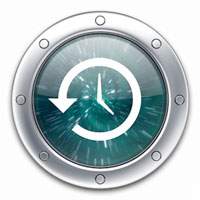 With Time Machine you can go "back in time" to restore files, versions of files, or your entire system. Make sure your backup drive is connected and mounted (if not, Time Machine will alert you that "Your Time Machine backup disk can't be found."
If prompted, enter an administrator name and password to proceed with the restore.
Restoring specific files or folders
Choose Enter Time Machine from the Time Machine menu and the restore interface appears. You can literally see your windows as they appeared "back in time."
You can use the timeline on the right side of the window to reach a certain point back in time (the timeline shows the times of all backups on your backup drive). If you don't know exactly when you deleted or changed a file, you can use the back arrow to let Time Machine automatically travel through time to show you when that folder last changed.
Note: Dates in pink indicate the data resides on your Time Machine backup device. Dates in white indicate the data resides on your Mac. In OS X Lion, portable Macs have the feature of local snapshots.
You can also perform a Spotlight search in the Time Machine Finder Window search field to find a file. Simply type the Spotlight search field and use the back arrow to have Time Machine search through your backups to find what you are looking for.
Before you restore a file, you can also use Quick Look to preview a file to make sure its the one you want. Highlight the file and press the Space Bar to bring up a quick look.
To restore, select the file/folder and click the "Restore" button. The file will automatically be copied to the desktop or appropriate folder.  If the file you are restoring has another file in the same location with the same name, you will be prompted to choose which file to keep or keep both.
Restoring your entire system from a backup
If you are restoring a backup made by a Mac to the same Mac
With your backup drive connected, start up your Mac from the Lion recovery partition (Command-R at startup) or Mac OS X v10.6 installation disc. Then use the "Restore From Time Machine Backup" utility.
Note: If "You can't restore this backup because it was created by a different model of Mac" appears when restoring a backup that was made on a different Mac, follow the onscreen instructions.
If you are restoring a backup made by one Mac to a completely different Mac
Important: If the backup you are about to restore is from a completely different Mac, use the Migration Assistant to transfer data from the backup, as described in the next section.
Migrating a Time Machine backup to a new Mac
When you buy a new Mac, you can transfer all of your applications, files, settings, and other information from a Time Machine backup you've already made.
You will be asked if you want to transfer files when you start up your new Mac for the first time. Or, you can use the Migration Assistant (located in Applications/Utilities).
If you use a Time Capsule, see Restoring files from a Time Capsule backup.
Once Migration Assistant completes the transfer and you select your existing Time Machine backup drive, you will be prompted with "Inherit Backup History". Once selected you will be able to continue to use your existing Time Machine backup on your new Mac.