The Fujitsu ScanSnap S1500M breaks the old assumption that a good scanner is a huge, slow, lumbering beast that occupies huge amounts of desk real-estate and yields mostly dubious results.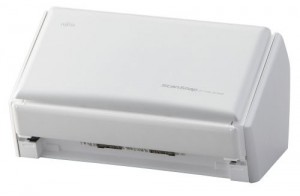 The Fujitsu ScanSnap S1500M will neatly fit into any space about the size of your average toaster, it's even  small enough to pack in your carry-on, ready for your next out of town business meeting or convention. This makes the Fujitsu ScanSnap S1500M the perfect traveling business companion to help you collect and catalogue your business expenses and the stacks of business cards (using the included Cardiris™ 3.6 software) you'll collect on the road.
At first glance the $495.00 price tag for the Fujitsu ScanSnap S1500M seems a bit steep, until you factor the scanner ships with Adobe Acrobat Professional 8.0, which sells separately for over $400.00 and the ABYY FineReader for ScanSnap™ 3.0 Mac Edition. So when you compare apples to oranges, the price of the Fujitsu ScanSnap S1500M and included software bundle is actually quite a steal.
So how well does the Fujitsu ScanSnap S1500M perform? The Fujitsu ScanSnap S1500M outputs both TIFF and PDF files and scanned PDF files can be made searchable using the included Abby FineReader software. Scanned documents can be searched and organized by location, date and even from within OS X's built-in Spotlight search function. The Fujitsu ScanSnap S1500M is pure business. Since the scanner isn't a flatbed, it's not the best solution for scanning in graphics or priceless old photos (although it does so admirably), but bundled with Acrobat Pro and the ABBY FineReader OCR software, it might just be the best scanner available for mobile and office professionals alike. Oh, did i mention it's fast. How fast? It's really, really fast.
Stop in to Austin MacWorks today and let us show you how the Fujitsu ScanSnap S1500M can help navigate the road to a true paperless office in your business environment.