Do you need to get up to speed on the latest edition of Microsoft Office 2008? Maybe you just want to brush up on your Office skills or gain a little more insight into some more advanced Word or Excel techniques.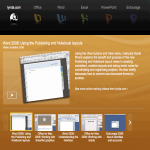 Check out the Mactopia site from Microsoft. Austin MacWorks just noticed that Microsoft is offering a free set of Microsoft Office 2008 training videos from lynda.com. The collection includes 5 videos covering Office 2008 versions of Word, Excel, Entourage and PowerPoint.
The training videos include topics ranging from Microsoft Word's publishing and notebook layouts, configuring POP and IMAP settings in Entourage, creating presentations in PowerPoint, and workbooks in Excel.
Here's the link to the Microsoft Mactopia Office 2008 training videos.