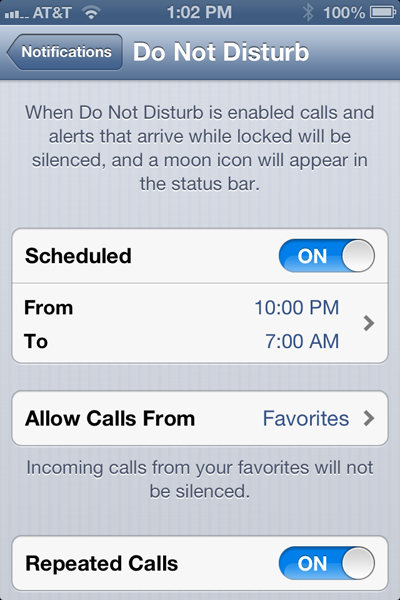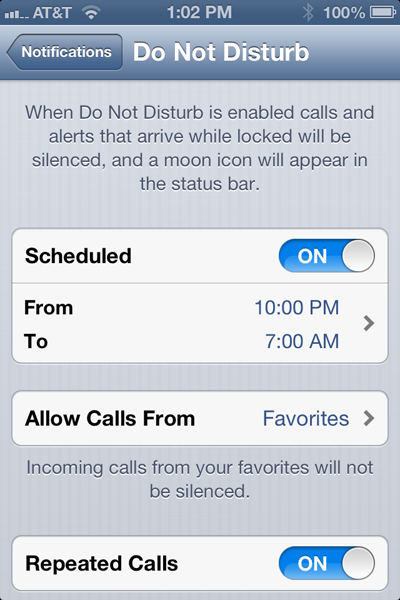 Apple's new iOS 6 offers a new feature called Do Not Disturb, which will not only completely silence your iPhone, iPad, or iPod Touch, but it will prevent the screen from turning on when an alert is received.
To enable or disable Do Not Disturb (DND), launch Settings, where you'll find a toggle switch. Alerts will then be silenced until you return to Settings and turn DND off. But there's more to it than that. Since you're already in Settings, tap on the Notifications option and then select Do Not Disturb.
You can set a schedule for DND to turn on and off without you ever doing a thing. This will be appealing to iPhone users who charge their device on the nightstand next to their bed.
So, what happens if you have DND turned on and someone is trying to get hold of you due to an emergency? Apple thought of that. You can allow calls from contacts marked as a favorite to come through every time, even with DND enabled. Or, if you'd like, you can allow repeated calls to come through. If the same number attempts to call you twice within 3 minutes, your iPhone will ring on the second attempt.
Loving this feature but want more? Check out the updates to Do Not Disturb in iOS 12.