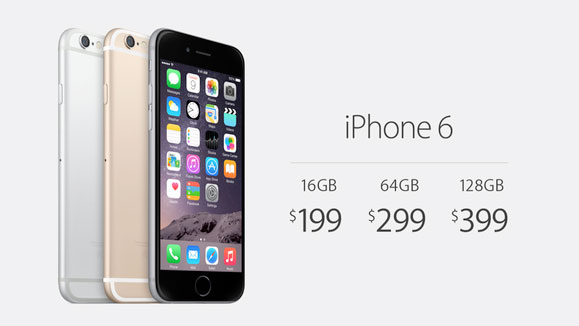 As you undoubtedly know, Apple made a couple of announcements yesterday.
The company unveiled two new iPhone models, the 6 and the 6 Plus. Both offer bigger screens than the last generation iPhone 5s: 4.7 inches and 5.5 inches respectively (compared with the 5s's 4-inch display).
Both models will be available at three different storage tiers: 16GB, 64GB and 128GB. The iPhone 6 models will sell for $199, $299 and $399, respectively, while the iPhone 6 Plus will cost $299, $399 and $499.
The bigger displays, which Apple calls Retina HD,  are sharper, too.  The iPhone 6 has a resolution of 1334 by 750, with a pixel-density of 326 pixels per inch (ppi). The 5.5-inch 6 Plus goes to 1920 by 1080 and 401 ppi.  Apple says both screens are more durable than previous iterations.
Inside, both phones have a new generation 64-bit Apple A8 chip and an M8 coprocessor. Apple says the A8 is 25 percent faster than its predecessor, the A7, and graphics processing should be even better than that.  Apple says iPhone 6 will get the same battery life as the 5s, while the iPhone 6 Plus (thanks to a bigger battery) should be better.
The camera has been improved on both models (without getting more megapixels), and they both get more advanced wireless capabilities (including 150 Mbps LTE and 802.11ac Wi-Fi)
Both models will be available on September 19.
Also announced yesterday was the Apple Watch.