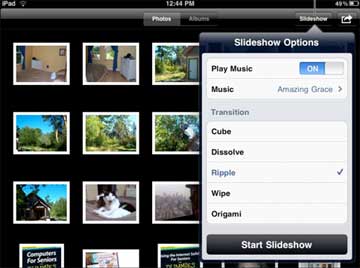 Part of the fun of taking photos is sharing them with others.  The iPad Photos app allows you to create a slideshow to show off  your images. It's easy!
Tap settings button and then click Picture Frame in the left column
Choose specific albums, events or photo streams to display, or you can choose "all photos." You can also fine tune how long each photo displays and how the slideshow will transition between pictures. You can also set it to show close-ups of faces.  You can add background music
From the lock screen, simply click on the little flower icon next to the slide bar to start the slideshow.