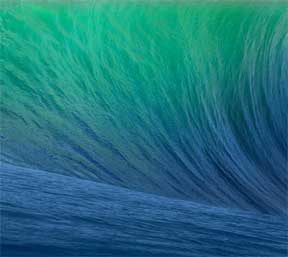 Apple recently announced the newest version of its operation system, OS X Mavericks. Due out this fall, the new OS has some impressive tweaks, though no sweeping changes are expected. Here are some features to look forward to.
iBooks
OS X Mavericks begins a new chapter in the iBooks story. Now the books you've already downloaded on your iPad, iPhone, or iPod touch will automatically appear in iBooks on your Mac. And there are more than 1.8 million more in the iBooks Store, ready for you to download. Reading books is every bit as intuitive as it is on an iOS device — turn pages with a swipe, zoom in on images with a pinch, or scroll from cover to cover. If you're a student hitting the books, keep as many open as you like and search through them with ease. When you quote an excerpt while writing a paper, iBooks adds a citation for you. And when you take notes, highlight passages, or add a bookmark on your Mac, iCloud pushes them to all your devices automatically. That way you have them on whichever one you take to class. iCloud remembers which page you're on. So if you start reading on your iPad, iPhone, or iPod touch, you can pick up right where you left off on your Mac.
Maps
The Maps app lets you use every pixel of your display to explore new destinations, and it takes full advantage of the graphics power of your Mac. So zooming is incredibly smooth and responsive. Text and details are crisp and easy to read. And you get gorgeous views such as Flyover, a photo-realistic, interactive 3D experience that lets you soar high above select cities. Maps makes it simple to get information on local points of interest like restaurants and hotels, showing you phone numbers, photos, and even Yelp reviews. It's also easy to get there on time, thanks to point-to-point directions, real-time traffic conditions, and suggested alternate routes. When you're ready to go, send your map to your iPhone for voice navigation on the way.3 With OS X Mavericks, maps are built into Mail, Contacts, and Calendar, too. So wherever you see an address, you can see it on a map, just like that.
Calendar
Calendar is streamlined with a  new look and powerful features to go with it. Continuous scrolling lets the weeks and months flow by smoothly, so you can look at the last half of one month and the first half of the next one. A new event inspector makes it even simpler to create and edit events by suggesting addresses and points of interest when you start typing in the location field. It shows your event's location on a map, calculates travel time, and displays a weather forecast. So you can quickly see where to go, how long it takes to get there, and whether you'll need an umbrella.
Safari
Safari in OS X Mavericks is faster and add new features that make it simple to return to sites you visit often — and discover new sites as well. Shared Links in the new Sidebar shows links posted by people you follow on Twitter and LinkedIn, so you can keep up with interesting new content. And with the redesigned Top Sites, it's easy to organize your favorites. There are also unique advancements under the hood. Thanks to the new Nitro Tiered JIT and Fast Start technologies in Safari, the web pages you visit feel snappier and more responsive. Browsing the web can take a toll on battery life, but with new power-saving technologies, you won't waste energy on web pages in the background or plug-in content you don't want to see. In OS X Mavericks, Safari is simply the best way to surf.
iCloud Keychain
Remembering your passwords can be a real pain. But now iCloud Keychain remembers them for you.  It stores your website user names and passwords on the devices you've approved, protects them with robust AES 256-bit encryption, and keeps them up to date on each device. And it automatically fills them in whenever and wherever you need them.  The new Password Generator suggests unique, hard-to-guess passwords for your online accounts. iCloud Keychain works with credit card information too, so checking out is easy.
Multiple Displays
OS X Mavericks takes full advantage of every display connected to your Mac, giving you even more flexibility to work the way you want. There's no longer a primary or secondary display — now each has its own menu bar, and the Dock is available on whichever screen you're working on. You can have multiple app windows running on either display. Or run an app full screen on each one. Even show a desktop on one display and a full-screen app on another. Mission Control can give you a bird's-eye view, making it easy to drag what you want where you want it. You can even drag it across the room, because now AirPlay and Apple TV can wirelessly turn your HDTV into a fully functional display.
Notifications
Notifications let you see what's up — and now they let you get things done, all without leaving the app you're in. With OS X Mavericks, you can interact with your notifications, so you can reply to a message, respond to a FaceTime video call, or delete an email right from a notification. In addition, you can now sign up with your favorite websites to get breaking news, sports scores, auction alerts, and more — even if Safari isn't running. And if you've stepped away from your Mac, you'll find a summary of all the notifications you missed as soon as you return.
Finder Tabs
Finder Tabs help you declutter your desktop by consolidating multiple Finder windows into one. You could keep a tab for Documents, one for AirDrop, and one for Back to My Mac, all in a single Finder window. You can switch between tabs, customize views, and reorder them however you like. To move a file from tab to tab, just drag and drop. And now you can even expand a Finder window to full screen and effortlessly move files wherever you want.
Tags
Tags are a powerful new way to organize and find your files, even documents stored in iCloud. Simply tag files you want to organize together with a keyword, like "Important." Then when you want to find those files, just click Important in the Finder sidebar or enter it in the search field. Tag a file once, or give it multiple tags to assign it to multiple projects. If you have documents stored in multiple iCloud libraries, tags let you group them together into projects. So if you're planning an event, you could tag the guest list you saved in Numbers, the flyer you designed in Pages, and the presentation you created in Keynote, and see them all with just one click — organized as a single project in a single Finder window.
OS X Server
OS X Server includes a number of innovations that will help the people who use your network as well as the people who manage it. The new features in Xcode Server make it easier than ever for a Mac or iOS development team to create robust, reliable software, thanks to continuous integration, testing, and repository hosting services. Caching Server 2 speeds up the download and delivery of software through the App Store, Mac App Store, and iTunes Store, and it can now cache on your server for faster downloading to iOS 7 devices. And Profile Manager has an array of new management features for iOS 7 and OS X Mavericks that simplify software distribution of apps and books.