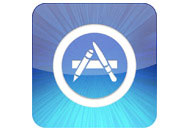 Apple recently released updates to several of its iOS apps, including GarageBand, iMovie, iPhoto and Cards.
iPhoto for iOS received its first update since its release in March. Version 1.0.1 (113 MB) includes a Copy Link button for your journal's URL to use when publishing a journal to iCloud. The update also fixes an issue that could cause duplicate photos to appear in Photos view.
The Cards update comes just in time for Mother's Day—version 1.1.2 (33.8 MB) includes letterpress cards made with Mom in mind. Other updates include new Get Well card designs; plus new designs for birthdays, thank you cards, and more. Addressing envelopes will also be easier, as the app improves address verification accuracy and fixes an issue with editing addresses.
Apple fixed a few small issues with GarageBand, including an issue that sometimes caused songs to crash or go missing when being pushed to iCloud. GarageBand version 1.2.1 (801 MB) also fixes a SoundCloud error that occurs when logging in through Facebook.
iMovie version 1.3.1 (403 MB) fixes some minor stability issues, including a problem where the app displayed the incorrect frame after splitting a clip. The update includes one new feature as well—you can access Help when editing a project on an iPad.
All updates are available for free in the App Store. If you don't already own these apps, they can be purchased separately. iPhoto costs $5 and runs on iPad 2 or later and iPhone 4 or later, and requires iOS 5.1 or later. Cards is free and is compatible with any iPhone, iPad, or iPod touch running iOS 5.0 or later. GarageBand is $5 and compatible with iPhone (3GS or later), all iPad models, and iPod touch (3rd generation or later) running iOS 5.0 or later. iMovie is also $5 and is compatible with iPhone 4 or later, iPad 2 or later, and iPod touch (4th generation); and requires iOS 5.1 or later.