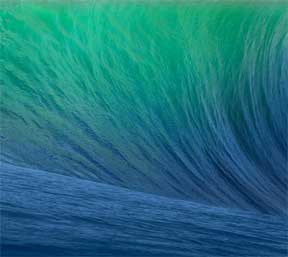 Today, Apple released its latest operation system, OS X Mavericks. You can download it for free through the app store.
The new OS X  delivers 200 features and improvements. Macs running Mavericks should be more responsive and (with an eye on mobile Macs) far less power hungry than before,
and will also gain support for iOS-like features such as Notifications, iBooks and Maps.
Additional highlights within the release include:
Finder improvements include searchable Tags and tabs.
Mavericks' support for multiple displays includes the capacity to use an AirPlay-equipped Apple TV to use your TV as a second display for your Mac.
 Safari has been redeveloped to be faster. Shared Links in the Sidebar shows you links shared by your friends on Facebook and LinkedIn.
iCloud Keychain stores your website login information, credit card numbers and Wi-Fi passwords, and pushes them to all of your devices so you don't need to remember them — though this feature is likely to be far less well-received than the company may have helped, given the ghastly privacy intrusions confirmed by recent revelations of the actions of the NSA.