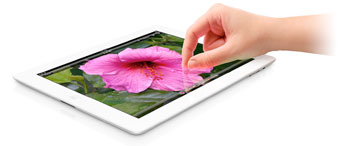 Today, Apple introduced its much-anticipated new iPad tablet, a beautiful device that features a sharper display and the ability to connect to the Internet on 4G broadband networks.
The third-generation iPad starts at $499 and has retina display, 5-megapixel camera (with the same optics sensor from the iPhone 4S) and 1080p video recording.
Apple said the new iPad will start at $499 for Wi-Fi only models—the same starting price as the previous model. Models capable of 4G speeds will start at $629, not including service plans. The new iPad will be available starting on March 16 in the U.S., Canada, U.K., France and Germany.
The new tablet is  powered by A5X chip (with quad-core graphics). It's 9.4 millimeters thick and weighs in at 1.4 pounds.
Apple says the iPad 2 16GB model will continue to be available, with a $100 price drop. $399 for WiFi and $529 for 3G.
Get yourself one of these beauties; call Austin MacWorks at (512) 476-7000 or (512) 323-6666 for more information!