They keynote address from yesterday's Apple Worldwide Developer Conference offered some big surprises, as well as some not-so-big surprises. It was certainly exciting, and a good show, as always.
We'll summarize for you here some of WWDC's biggest announcements:
New name for the OS
Mac OS X will henceforth be called macOS — a highly anticipated change that brings the Mac OS nomenclature in line with that of Apple's other products, i.e. iOS, watchOS and tvOS. Apple also announced the next macOS will be called Sierra — continuing the trend of using California place names — and will be released this fall. One of the more exciting aspects of Sierra will be its inclusion of Siri. You will be able ask Siri to search for files, switch between apps, and do quick math. Siri will also be able to query the Internet and allow you to drag and drop those results into other apps running on your desktop.
Sierra also enables intuitive continuity among the suite of Apple products. For example, with Sierra, users will be able to copy and paste between their iPhone and desktop. So if you copy a line you're reading from an article on your phone, just right click on your desktop to paste it in a text field there, a feature Apple is calling Universal Clipboard.
Sierra will offer a storage management feature that pushes old content to the cloud in order to free up space for new files locally. Sierra also introduces the addition of Tabs to pretty much anything: Spotify, iTunes, etc.
iOS10: More Siri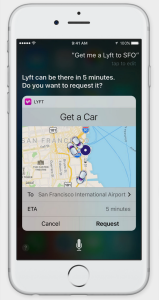 Also announced was a new version of Apple's mobile OS, iOS10, which will be available in the fall, as well. Most exciting is the fact that developers will now have access to Siri, meaning more apps will be Siri-friendly. You'll be able to talk to these apps — just as you can talk to Siri — and have them respond to your voice.
iOS10's iMessage will sport some impressive improvements, and Apple Music will have a whole new, fresh look. TouchID, Photos, Maps, Apple News and HomeKit will all see updates, too.
tvOS
More Siri enhancements in the new version of tvOS; she'll be able to search the database's 650,000 programs using more complex topical queries.
The newest tvOS enables Siri to launch streaming channels immediately by your saying "watch (app name)."
watchOS
Apple also announced several new and changed features for watchOS, including several performance boosts. Apps should launch faster, and you can get the dock by pressing the side button. Interactions within many apps have been simplified to a single gesture or tap. And app previews are now live so you can see and launch apps from the same place.
Another fun new feature of watch OS is Scribble. It lets you draw letters on the screen to form words. Scribble works in both English and Chinese.