Living somewhere between the space occupied by PDA's and note taking on your laptop comes a relatively new player into the computerized note space. The Livescribe Pulse Smartpen at first glance might leave you scratching your head about its usefulness, but after spending a few minutes with the Livescribe, you'll instantly understand its how it will simplify your data and revolutionize your note taking.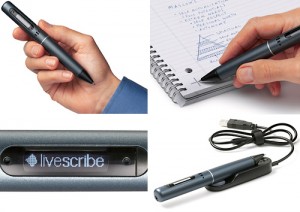 The Livescribe Pulse Smartpen is a combo note-taker and audio recorder. Using special paper (available in a number of formats including journals and notepads), the software tracks your writing and records your notes, syncing them to your Mac the next time you dock your pen. Sure, it's a neat trick, but the real payoff is using the notes with the built-in audio recording software. Tell the Livescribe Pulse Smartpen to record audio while you're taking notes and it indexes the audio to your scribbles. Once you've docked and synced your notes on your Mac, simply tapping on your notes takes you to the recorded audio that corresponds to the timeline of of your notes.
The audio/notes sync feature will be a boon to anyone who has lots of data to remember and record. Students can record lectures and take notes and have instant access to the corresponding section of the lecture by simply tapping on the notes. Other obvious applications could include note taking for therapists, doctors, business professionals, songwriters, musicians… Pretty much anyone who needs to jot down notes, store them on the computer and have instant access to corresponding audio recordings.
The Livescribe Pulse Smartpen is available in 1 and 2 gigabyte models and comes with 250 MB of online storage for registered users who can share notes and audio as interactive Flash movies or PDF files. Stop into Austin MacWorks today and let us demo this very cool tool that will simplify note taking and data gathering for business professionals and UT students alike.