Your Business on a Mac. A better bottom line.
Who should attend
Business owners or entrepreneurs considering a Mac
Business users wanting to use a Mac with their existing Windows applications and networks
You will learn
How to get started with Mac OS X
How to connect a Mac to existing workgroups and other office computers, including PCs
How to communicate, share files, and use existing printers as a shared resource
How iWork '09 can help you create stunning documents, spreadsheets, and presentations
How iLife '09 can be used for your business.
February 25, 2009
05:30 PM – 06:30 PM
Sponsor: Apple, Inc.
In less than an hour, we'll show you how easy it is to integrate a Mac into your business. And some surprising ways a Mac can help increase your productivity. Come to our Better Bottom Line seminar to find out how.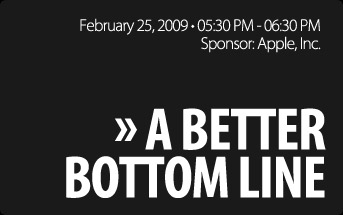 Please register at Apple Seminars to guarantee your place at the seminar.